Welcome
'Wyrd' is a word from the past: and related to the present word 'weird', though it's meaning is somewhat different. It implies the shaping of what will be by forces of past and present - actions, events, agencies. Wyrd's Well is described in the Icelandic poem Völuspá, a pool within white (chalky?) earth at the foot of the world tree Yggdrasill. It may be theorised as holding all potential and all agency, words and deeds from which people (and others) shape their being and doing.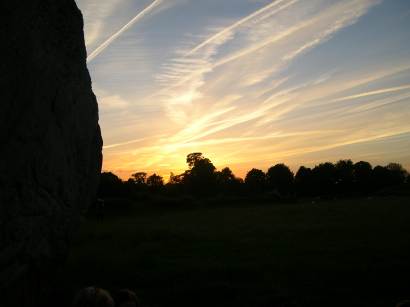 I am an anthropologist interested in identities shaped within shamanisms and paganisms, and particularly seidr - which is northern European shamanistic practice - see my book on Nine Worlds of Seid-Magic: Ecstasy and Neoshamanism in North European Paganism (Routledge, 2002). A seidkona is a woman who practises seidr.
My current major research is a collaborative project with Dr R.J. Wallis on Sacred Sites, Contested Rights, dealing with paganisms, identity and meaning, in the context of contested 'sacred sites'. Our website for the project is at http://www.sacredsites.org.uk/. It includes articles, reports and discussion documents, a photo gallery, and links to relevant organisations and campaigns. The project has received funding from ESRC (December 2002 to October 2003). The website also has a bookshop link to Amazon.co.uk, with links to purchase Nine Worlds, the edited book Researching Paganisms (eds. Blain, Ezzy and Harvey, pub. Altamira 2004) and others - not least the Sacred Sites, Contested Rites/Rights book which came out in 2007 from Sussex Academic Press.
You can see cover images by clicking the Facebook banner at the foot of this page!
In addition to academic work, I've written a couple of small 'practitioner' booklets on Heathenry (old religion of areas of North Europe) as it's being re-constituted today.
I've a number of webpages! There is an older personal homepage is at http://home.freeuk.net/jenny.blain, and some information about practitioner booklets is at http://home.freeuk.net/wyrdswell. Note that Wights and Ancestors is in need of being reprinted!
Wyrdswell domain is now my key personal website, at http://wyrdswell.co.uk and is the 'front page' for these personal pages as well as campaigns and issues I've been involved with (Stanton Moor, Rollright Stones, etc.). I have been actively working on family history and there's a set of pages at the Wyrdswell url too - please go and take a look...
From the Sacred Sites project and from general research, travel and so forth I've acquired a number of photos, some of which will be finding a home here. In the meantime, I have some images which were on an older site for a while and which I've moved here. These were taken in Dundee on a bleak, cold February day, and - unlike the photograph of the glorious Avebury sunset on this page - appear to show a very neglected stone circle.
I started playing with video a while back - there's a little bit of video footage of the Major Oak, Sherwood Forest when I was trying to learn to use the camera. (Also a short-ish video of a squirrel at Breakfast Bar, which is a download.)
Bye now.
---